Greetings St. Xavier Alumni,
The students at St. X are finishing up their third quarter finals and preparing for Spring Break before they head into the final quarter of the year.  Speaking of students, the Class of 2023 were welcomed with a brief acceptance video that made both new and old members of the Long Blue Line Proud and we encourage you to watch and share!  Please click here to view the video!
A Special thanks to Matt Wagner '11, Jack Doyle '12 and Mitchel Ram '09 and everyone else who helped make phone calls to prospective students to congratulate them on their acceptance and answer any questions they had.  Next year we would love to create the opportunity for alumni to lend a hand in reaching out to prospective students.  If this is something that interests you, please don't hesitate to reach out and be on the lookout for opportunities next fall.
From an alumni standpoint, I'd like to give a big congratulations to the basketball alumni who came together for the first ever Kickoff Party in January at the Fueled Collective.  More than 100 alumni came together to talk about the basketball program when they were in school and generated excitement about where it's going now. 
I've enjoyed meeting with the classes of 1974, 1979, 1984, and 2009 in regards to their upcoming reunions this fall and look forward to meeting with the class of 1989, 1994, 1999, & 2004.  If you're interested in helping your class with your reunion, please reach out to me on my cell phone at 513.550.2634.
X-Travaganza's A Derby Night XTRAORDINAIRE on Saturday, March 9th was a huge success again this year.  Thanks to all those who chaired the event and for the X-Travaganza office here at St. X.  It continues to be one of the best fundraisers in the city of Cincinnati.  If you have any interest in helping with X-Travaganza next year please reach out to the Director of X-Travaganza, Cathy Cionni at Ccionni@stxavier.org. 
The rapidly expanding Career ConneXions program at St. Xavier was hosted the week of February 25, including the popular Young Alumni Career Forum which was held at St. X on February 27 and included lunch.  More than 25 alumni talked to 70 students about a variety of careers including, finance, realty, medicine, tech, law and engineering.  Check out what is going on with the program by clicking here.
In other exciting news, the Alumni Office is growing.  We are currently hiring  an Assistant Director of Alumni and would love for the members of the long blue line to not only apply, but to forward along the information to anyone who may be interested.  You can find the application and job description here.
Will Reilly '09
Director of Alumni and Special Events

We strongly encourage you to update your information with the online Reconnect Form as email and mailing addresses are the best way for us to inform you of upcoming events.  In order to continue to spread the word about all areas of the St. X community, please share news and photos at alumninews@stxavier.org.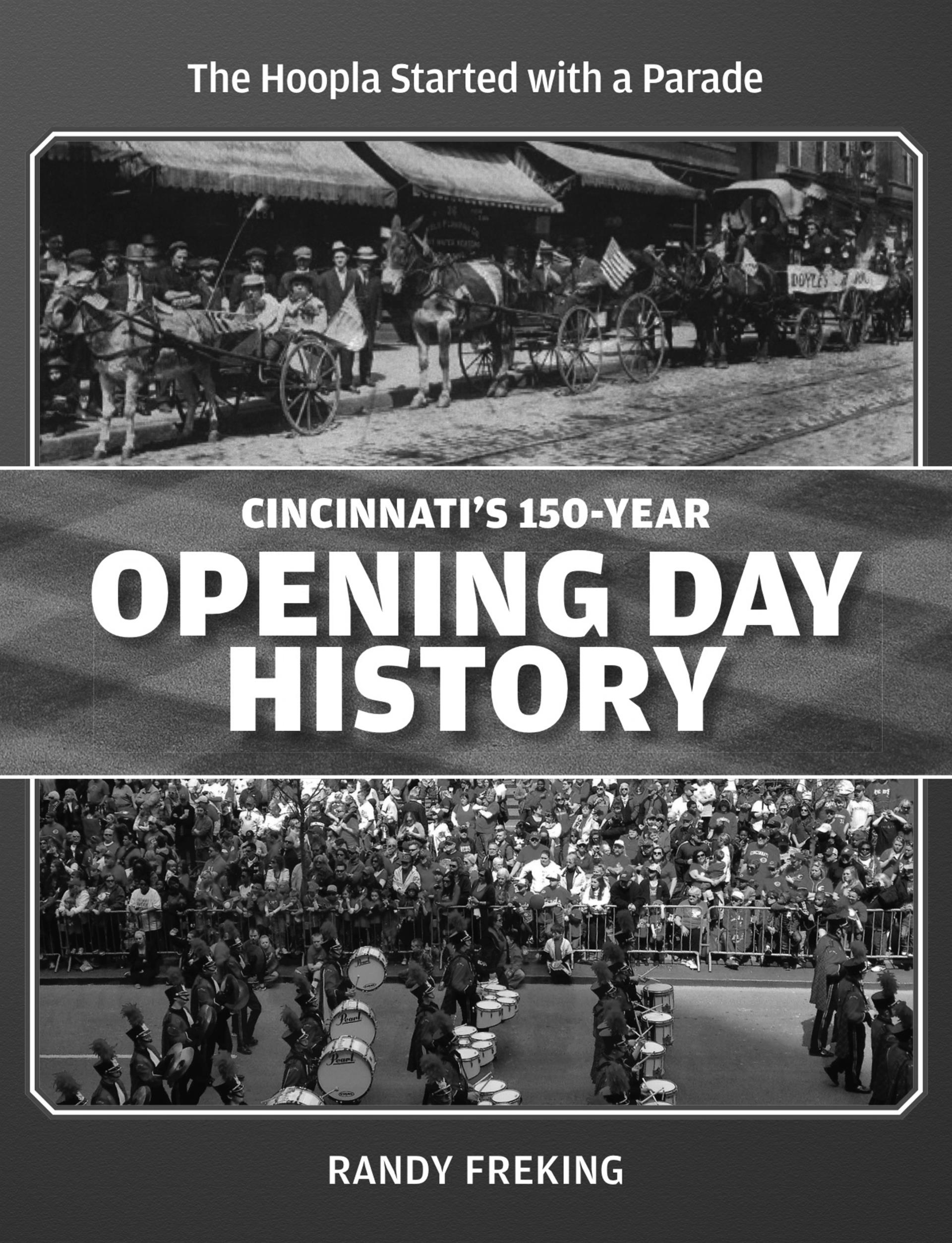 Joseph-Beth Booksellers (2692 Madison Road, Cincinnati Ohio 45208) will host Randy Freking '75 author of Cincinnati's 150-Year Opening Day History on Tuesday, March 26 at 7 p.m. Please come out and meet Randy and hear his discussion about the book. The book is published by Cincinnati Book Publishing - Anthony Brunsman, publisher (St. X class of 1978).
Full Time Volunteer Opportunity for Recent College Graduates
Cristo Rey Jesuit High School is actively seeking applicants to enter our Cristo Rey Jesuit Volunteer Program in August of 2019.  Located in Chicago, our school serves Hispanic youth in a college prep setting.  Though we operate within a dual language community, Spanish language skills are not required to apply.  Ours is a two-year program, allowing volunteers to fully blossom within their roles.  Coming from all corners of the country, recent volunteers hail from New York, California and Florida, complementing our home grown volunteers from Chicago.  While most of our applicants come from Catholic colleges (Notre Dame, Georgetown, LeMoyne, U of Portland, to name a few), we have also had applicants from public universities (U of Illinois, U of Wisconsin).  We are not a part of the Jesuit Volunteer Corps, ours is a stand-alone volunteer community of 4-6 members dedicated to serving Cristo Rey Jesuit High School.  Since the program started in 1999, we have seen our volunteers go on to graduate school and careers in education, social work, public health, law and foreign diplomacy.  Not all of our volunteers are aspiring teachers, we also have opportunities in departments such as corporate work study, campus ministry, athletics, college counseling, technology and advancement.  Feel free to call for more information about our program and the different roles we have available within the school. 773-890-6884. 
Applications are currently being accepted on a rolling basis.
Purchase your St. X License Plate Today!
Show your St. Xavier Pride on the road and purchase your St. Xavier license plate today!  President Tim Reilly was the first to purchase a plate. Purchase yours at OPLATES.com
Additional cost for your plate is $40. The money goes towards the following: $10 - BMV, $15 – tuition assistance for St. X students and $15 – mental health programs for our students. Thank you in advance!
Jesuit-Ignatian, Catholic, and Patriotic Pilgrimage to France
May 9-19, 2019. 75th Anniversary of D-Day: Rouen [Joan of Arc], Caen in Northwest France [Omaha and Utah Beach, American Cemetery, and the Museum of Peace]; Monastery of Le Mt. St. Michele; Loire Valley; Cathedral of Chartres, Paris [Notre Dame, Sacre Coeur, Louvre Museum, Bateau Mouche on the Seine, and more. In Paris we will visit the College Ste Barbe where Xavier, Ignatius, and Faber lived during their studies in Paris, and the Chapel of the Martyrs where in 1534 the first 10 Jesuits vowed themselves to serve the Church. Alums, friends, and family all welcome. Brochure and questions: Michael Cooper, S.J., '62. [727-644-5544 or michael.cooperinfl@gmail.com]
Phil Gill '08 will appear as a "celebrity" dancer for the Cincinnati Arts Association's Dancing with the Stars. This event raises money to support the Cincinnati Arts Association's scholarship fund for high school students in the arts.
Click here for more information regarding the event.
Tom O'Gorman '10 won the inaugural Michelin Pilot Challenge race at Daytona International Speedway. 
Deacon Matt Spotts SJ '04 now works in the Catholic chaplaincy at San Quentin Prison while he studies for the priesthood.
Rocky Fresh '86 was awarded 2018 TOPSoccer National Coach of the Year by US Youth Soccer. TOPSoccer is a community-based training and team placement program designed to bring the opportunity of learning and playing soccer to young athletes with mental or physical disabilities.
Andy Blankenbuehler '88 has been set to choreograph Universal Pictures and Working Title's big screen adaptation of Andrew Lloyd Webber musical Cats.
EVENTS


Fridays:
April 5
First Friday Luncheon
St. Xavier Downtown
April 10
Class of 1958 Lunch
April 28
Father & Son Communion Mass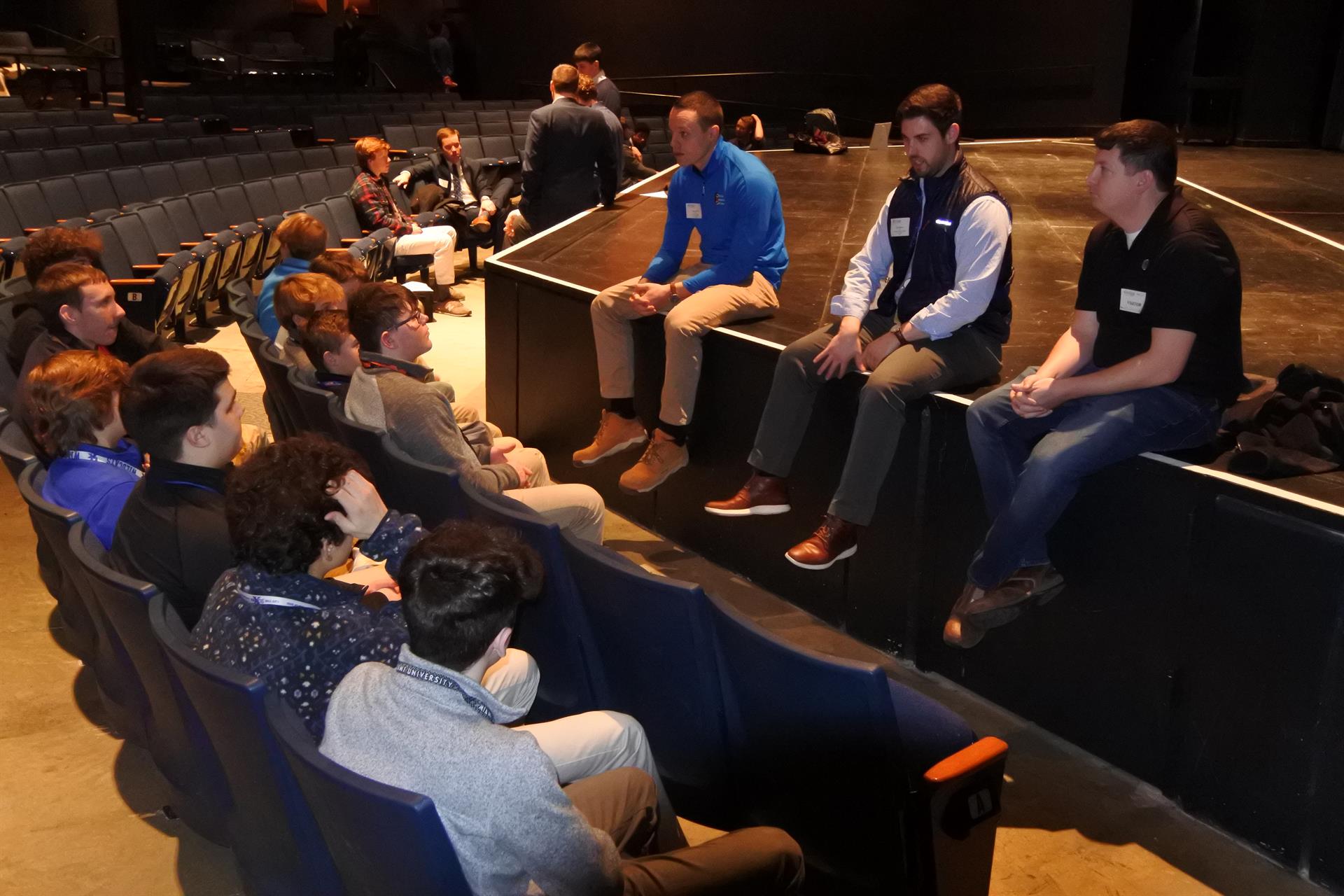 Young Alumni speak with students during the Young Alumni Round Table for Career ConneXions Week at St. X.
IN MEMORIAM
Please remember in your prayers members of the St. Xavier family who have recently passed away.
Obituary information is available on the In Memoriam page of the St. Xavier website.  If you know of other members of the St. X family who have died, please contact Cara Hester in the Alumni Office at chester@stxavier.org.